Le rétrogaming est plus qu'une mode pour certains, et j'en fait parti, c'est une vraie passion qui malheureusement est parfois un peu difficile à satisfaire. La NES mini sera peut-être le bonne solution.
La NES mini bientôt disponible !!!
Pourquoi est-ce difficile de faire du retrogaming ? Pour des raisons budgétaires mais aussi plus simplement parce que le genre de console que l'on recherche à souvent plus de trente ans et est souvent en mauvaise état. Et bien c'est fini en tout cas pour les fans de la NES classique.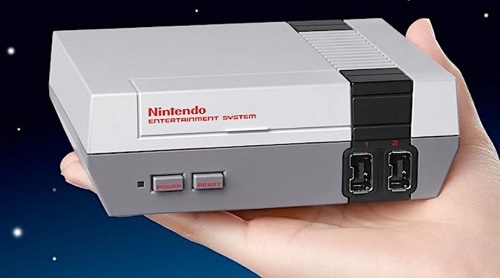 Depuis quelques jours on sait que la NES mini sera disponible à l'achat dès le 12 Novembre 2016. Mais le truc encore plus cool c'est qu'on peu déjà la pré-commander sur Amazon ou Auchan. Comme ça pas besoin de courir les boutiques pour la trouver !!!
La mini reprendra le design de notre bonne vieille console de 1986, mais avec un petit régime et une petite modernisation du genre port HDMI et port USB.
Elle intégrera trente jeux Balloon Fight – Bubble Bobble – Castlevania – Castlevania II: Simon's Quest – Donkey Kong – Donkey Kong Jr. – Double Dragon II: The Revenge – Dr. Mario – Excitebike – Final Fantasy® – Galaga – Ghosts'n Goblins – Gradius – Ice Climber – Kid Icarus – Kirby's Adventure – Mario Bros. – Mega Man 2 – Metroid – Ninja Gaiden® – Pac-Man – Punch-Out!! Featuring Mr. Dream – StarTropics – Super C – Super Mario Bros. – Super Mario Bros. 2 – Super Mario Bros. 3 – Tecmo Bowl – The Legend of Zelda – Zelda II: The Adventure of Link .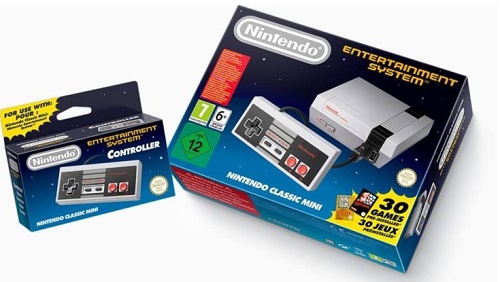 Et le prix est plutôt raisonnable entre 60 et 70 Euros.